4th International Symposium on Development of CBRN-Defence Capabilities
09.06.2018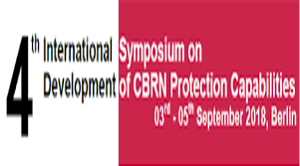 Two Members of the Directive Board of the CBRNe Master Courses participated in the 4th International Symposium on Development of CBRN Protection Capabilities that took place from 3 to 5 September 2018, in Berlin.
The Symposium has been a great occasion to meet experts from academia, industry, politics, civilian and military organisations, all involved in the field of protection against CBRNe events.
Dr. Pasquale Gaudio participated as a chairman of the Session Bio-Defence and Medical Countermeasures during which the speakers talked about biodetection. In the framework of the same session, Dr. Jean-François Ciparisse introduced numerical simulations of infected dust dispersion in a confined environment and the application of the Laser-Induced Fluorescence Technique for the detection of biological agents.
A poster about the CBRNe Master Courses activities was also presented at the Symposium by the two Representatives.
Also some Members of the Didactic Board of our Courses took part in the event.
Awaiting for the next edition of the Symposium, we invite you to attend the 4th International Workshop on CBRNe - IW CBRNe 2018 - Countering Radiological and Nuclear Threats that will take place on November 8, 2018 in Rome.