MELODY (2018 - expected 2022)
2018-2021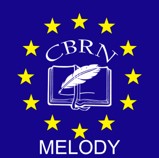 The EU project MELODY (under the call ISFP-2017-AG-PROTECT (Link) just started with its Kick-off meeting held in Bruxelles on the 12th of November 2018 at the Belgian Nuclear Research Centre (Coordinator of the project).
During the three year project, a harmonized CBRN training curriculum for first responders and medical staff will be developed and delivered for testing by the end-users.
The University of Rome Tor Vergata is a partner of the consortium thanks to its expertise in CBRNe education and training acquired in almost 10 years with the International Master courses in Protection Against CBRNe events and will support the development of the curriculum.
THE MELODY CONSORTIUM
Coordinator

Partners