N-O-P
NIKOLIC, Vladimir

Vladimir Nikolić was born in 1979. in Arilje, Serbia, where he has finished elementary school and high school. In 1998/99 he enrolled in the Faculty of Physical Chemistry, University of Belgrade, where he graduated in September 2005 on the thesis entitled "Determination of trace uranium applying the U-shaped DC arc ". In October 2005 he started working at the Institute of General and Physical Chemistry in Belgrade, where the main part of his research work was related to testing different catalyst for alkaline water electrolysis, the synthesis of polymeric membrane for alkaline fuel cells, as well as qualitative and quantitative analysis of coal from Kolubara mines using X-ray fluorescence spectroscopy. Since January 2008 he has been employed at the Vinca Institute of Nuclear Sciences. In the Laboratory of Physical Chemistry he has done PhD thesis titled " Influence of the tungsten carbide and carbon anode catalyst supports on PEM fuel cell performance " in 2013. The main areas of research are the synthesis and electrochemical characterization of catalysts and membranes, and their use in PEM fuel cells. Recent research interest have been oriented to detection and decontamination activities of toxic chemicals and development of suitable methods for removal of various organic pollutants from environment.
---
NIKOLIC, Zeljka Miodrag

Zeljka Nikolic was born on May 9th 1979 in Pozega, Republic of Serbia. She is an assistant research of analytical chemistry at the INN Vinca, Belgrade. She is a Phd student at the Technical Faculty in Environmental Engineering, University of Belgrade. She is focused on different methods environmental sample extraction developing, chromatographic analysis and organic pollutants degradation and transformation in different matrices.
---
OSVALD, Col. Vratislav

MTitle: Colonel Engineer
Position: Training Education and Exercise Department Director
Company Name: NATO Joint CBRN Defence Centre of Excellence
Colonel Vratislav Osvald was born on 3 th October 1963 in Přibram. His military career started in 1982 after graduation at the specialized military chemical high school in Valašské Meziříčí. That year he started studies at The Military University of Ground Forces in Vyškov.
After the graduation (he reached the Master of Science degree from chemistry and radiology) he served as a Recce Platoon/company Commander and as a Deputy Commander for Armament of the 4 th CBRN Defence Battalion. In 1991 he was appointed as a Senior Staff Officer of the CBRN Section and in 1992 as a Senior Officer of the Logistic Support Department of the 9 th Tank Division. In 1996 he was appointed as a Deputy Commander of the 5 th Support Battalion.
From 1997 to 1998 he did post gradual study at the Military University in Brno. After graduation he started serving as the Chief of staff of the 2 th Logistic Battalion.
In 2000, he participated in the peacekeeping mission SFOR in Bosnia and Hercegovina serving as an Operational Logistic Officer-Deputy Chief of Logistic Support department of the Multinational Divisional Headquarters in Banja Luka.
From September 2003, he started building-up the 1st NATO Multinational Chemical Biological Radiological and Nuclear Defence Battalion for NATO Response Force as the battalion commander. During the standby period he was responsible for CBRN support to the Istanbul summit and he was the commander of the NATO CBRN Task Force deployed to Greece in support of Olympic Games 2004.
In 2005, Col Osvald was transferred to Prague and appointed as the director of The National CBRN Monitoring Centre. As a part of obligations, he worked as the permanent representative of The Czech Armed Forces within NATO CNAD/NAAG – CBRN Joint Capability Group (CBRN JCG) and co-chaired NATO CNAD/ Defence Against Terrorism Program of Work (CBRN DAT POW) group.
1st JULY 2006, Col Osvald was designated as the SACEUR's NATO CBRN Joint Assessment Team Commander for NATO Response Force (NRF) 8.
1st February 2008 was Col Osvald transferred to Supreme Headquarters Allied Power Europe (SHAPE) as a J5 CBRN staff officer responsible for CBRN Policy and CBRN Reach back and fusion.
1 September 2011, he was appointed as Training, Exercise and Education department director at the Joint CBRND COE Vyskov, CZE and promoted to the Colonel.
Since 1st September 2011, Col Osvald was designated as the NATO CBRN Joint Assessment Team Commander for NRF 18.
In 2012, Col Osvald was elected as the co-chairman of the NATO CBRN Training and Exercise Panel.

He has been honoured following Medals:
Meritorious Cross 3rd class
Medal of Czech Army gold class
Medal of NATO for serving for peace and freedom
Memorial badges for serving in SFOR mission
The Texas Adjutant general's Individual award

---
PALESTINI, Luigi

I am Luigi Palestini and I work in the Italian Fire Brigade from 2006, as a Lieutenant Colonel Engineer. My professional duties are firefighters training on CBRN, equipments and vehicles, disaster response coordination in local and national emergencies and fire prevention. In 2016 I attended the "Civilian-Military Cooperation Course (COCIM)" at the Italian Ministry of Defense, in 2011 I earned a 2nd level master course in "Protection against CBRNe events" at the University of Rome "Tor Vergata" and in 2003 I got a mechanical engineering degree in University of Rome "La Sapienza". My interests are education and training, sports, psychology and reading.
---
PALESTRINO, Mirko

Mirko Palestrino has been working at ASST Fatebenefratelli Sacco since 2014. After a six-months internship, he has been hired as Team Assistant in the Grants Office of the Laboratory of Clinical Microbiology, Virology and Bioemergencies. He works now as both Assistant Project Manager and Project Data Analyst. He is responsible for the collection and the analysis of project data, as well as for the drafting of relative reports.
As Assistant Project Manager, he contributes to the monitoring of the project progress and quality of the outputs, including supervision of field activities in the target regions. Furthermore, he is in charge of the research of new funds and the design of project proposals.
Mirko is interested in International Relations theory and research with a focus on realism and international political economy as theories of international relations, U.S. foreign policy, as well as disarmament and armament proliferation control. He holds a B.A. in International Sciences and European Institutions and is currently attending a Master's programme in International Relations focused on international politics and regional dynamics. He is fluent in English and Spanish, he is endowed with a good knowledge of German and Catalan and a beginner level of French.
---
PALUCCI, Antonio

Antonio Palucci, graduated in Chemistry, his field of interest are most in spectroscopic (IR, VIS, UV and Raman) and analytical techniques for trace monitoring in different field of interest as environmental, health and cultural heritage. Recently, he is deeply involved in Security as project coordinator or advisor. Formerly coordinator of ISOTREX (FP6), BONAS (FP7) and RADEX (NATO security projects. Member of ESRIF and IMGS, ESETF, NDE (Network Detection of Explosive), ISEG (Independent Scientific Evaluation Group of NATO), European Reference Network fir Critical Infrastructure Protection (ERNCIP): Detection of Explosives & Weapons at Secure Locations (DEWSL). He is Director of the Diagnostic and Metrology Laboratory, at the Italian National Agency for New Technologies, Energy and Sustainable Economic Development ENEA, since 2009, where manage five research activities, namely: Diagnostics for Security, Diagnostics for Safety, Environmental Diagnostic related to Climate Change, Diagnostics for Cultural Heritage preservation and Fruition and Diagnostics for Energy. All of these based on optoelectronic technologies and with the support of 30 staff members. As result of his activities garnered 7 patents, more than 100 papers published on national and international scientific journals and more than 400 reports and proceedings of national and international conferences.
---
PARATORE, Dr. Eng. Angelo
Angelo Paratore has been working since the 80's in the nuclear industry, mainly on the management of the Nuclear Fuel used in the Enel Nuclear Power Plants.
He is currently involved as Deputy Director in the activities relevant to the siting and realization of the Italian centralized Technology Park and National Repository for the disposal of Low Level Waste and the temporary storage of Intermediate and High Level Waste.
In recent years, he had the role of Project Manager in the assistance activities which Sogin provided to the European Commission for the Decommissioning and Waste Management Programme of the Joint Research Centre in Ispra (Varese) and responsible of the Engineering Dpt. involved in the decommissioning programmes of the Sogin NPP's and of Fuel Cycle installations.
---
PASQUINO, Cap. Francesco
Francesco Pasquino, born the 31/08/1974 at Galatina (LE). In 2001 he received a degree in chemistry from University of Bari. In 2001 he joined Italian Army as Lieutenant of Corp of Engineer. From 2005 he work at Joint Technical Centre of Civitavecchia (RM) that is Italian reference centre about Chemical Warfare Agents where he work as analytical chemist and he is involved in testing of protection and decontaminating material. In 2007 he have been promoted Captain. From 2008, he is the head of chemical laboratory Joint Technical Centre. From 2011 he give lectures about Chemical Warfare Agents at Master Protection against CBRNe events of University of Rome Tor Vergata.
---
PATUREJ, Krzysztof

Mr. Krzysztof PATUREJ, President of the Board of the International Centre for Chemical Safety and Security (ICCSS), Warsaw, Poland (www.iccss.eu), a career diplomat, the Chairperson of the OPCW Third Review Conference /The Hague, April, 2013/, former Director at the OPCW Technical Secretariat. Amb. Paturej is experienced in multilateral diplomacy, negotiations and multicultural relations, disarmament and non-proliferation of WMD, efforts against terrorism, development and cooperation programmes, relations with stakeholders and public society, result based management and risk management strategies. He is actively engaged in the promotion of the global cooperation to mitigate CBRN security threats and the development of the global chemical security culture. He co-organized and leads the multi-stakeholder and non-political process of global cooperation to enhance chemical safety and security – CHEMSS. He chaired the first CHEMSS2016 - Global Summit on Chemical Safety and Security (ww.chemss2016.org) in Kielce, Poland. He chairs the preparations and the Program Committee for CHEMSS2017 (Shanghai, China, 19-20 September, 2017).
---
PECORARO SCANIO, Alfonso

Alfonso Pecoraro Scanio (13 March 1959) is an Italian politician, lawyer and journalist. He is actually President of Fondazione UniVerde. He served as Minister of Agriculture in the second cabinet of Giuliano Amato and as Minister of Environment in the second cabinet of Romano Prodi. Born in Salerno, member of the Italian Chamber of Deputies since 1992, Pecoraro Scanio was the leader and president of the Federation of the Greens, one of the parties making up the ruling coalition in the new Italian government. He also served as Minister for Agriculture from 2000 to 2001 in the cabinet of Giuliano Amato.
---
PEDEMONTE, Massimo (MAX) Police Officer S.U.P.S. OF9
Officer Pedemonte is an Italian Police Superior Inspector on duty as Bomb Squad Commander. Actually is leading a Police Special Unit with C-IED and CBRNe capability dealing with certification & training of Police personnel and emergency quick reaction. Graduated by Naval School in 1979 joining the Navy as Engineer, he was travelling spending some years around the world. After was hired by a National Company dealing directly with CEO security he finally joined the Police in 1988. At the end of the Police Academy training, he get immediately assigned to the anti-terrorism and, due to his military background, joined voluntary the Army EOD School in 1989. Following the threat evolution, he get first the EOD badge and after became IEDD operator. He is also a CPU Operator and Instructor Following the operational and tech development, after Sept. 11, he was also qualified by the ARMY NBC interforce Training Center in Italy and abroad as Specialist and Instructor on CBRN. Qualified by ATF as Post Blast Investigation expert is tech advisor for forensic and get a seat into several tech panels. Max was part in several and different missions, serving abroad for many years with CIV/MIL/POL entities as field officer, tech advisor and operations, embedded with National, International and local Military and Police forces as J2 J3 and J9. From is fields experience he get the possibility to be trained and certified as C-IED and CBRNe Instructor and is actually making lectures looking the threat with a "police approach" focused on C-IED and CBRNe at Universities and Academy Military and Police both.
---
PELLEGRINO, Roberta

Roberta Pellegrino was born in Rome on the 12th August 1991.
She attended the Technical Institute I.P.S.I.A. Emilio Cavazza in Pomezia. She obtained her bachelor's degree in Industrial Engineering at University Campus Bio-Medico of Rome (UCBM) in 2014. The thesis "Treatment and transformation of the waste materials of the olive-products industry" proposed a reuse of the remaining biomass as fuel for gasification plants with the aim of producing energy from renewable sources.
Now, she is about to get her Master Degree in Chemical Engineering, always at University Campus Bio-Medico of Rome. The thesis "Analysis of the impact of terroristic attacks against chemical plants" aims at identifying the damages provoked by a potential terroristic attack in a specific point of interest of a chemical plant and the consequent analysis of the critical areas of the plant itself. Her work has been developed within the Coserity Lab. The laboratory is involved in three main fields: Interdependency Models for Critical Infrastructures, Fault detection and Reaction strategies, Indoor localization of ad-hoc sensor networks.
---
PENSALFINI, Lieut. Col. Stefano

Lieutenant Colonel PENSALFINI has occupied a multitude of military appointments, with responsibilities ranging from Bersaglieri Infantry Platoon Leader to Bersaglieri Infantry Company units Command. He has also served as Staff Officer covering diverse range of appointments within the 7th CBRN Defence Regiment Headquarter. He has specialist knowledge and extensive experience in CBRN Defence, a field in which he has attended numerous advanced courses: he led Logistics Branch within a multinational CBRN Battalion as part of the 2007 rotation of the NATO Response Force (NRF 9) and, subsequently experienced as Chief of Logistic Support Office and therefore as Security and Information Officer at the "Cremona" 7th CBRN Defense Regiment in Civitavecchia (Rome). Since August 2013, he has been appointed as Capabilities Development and Defence Planning
Section Chief for Transformational Support Department of the Joint CBRN Defence Centre of Excellence in Vyskov (Czech Republic).

---
PEPPEROSA, Andrea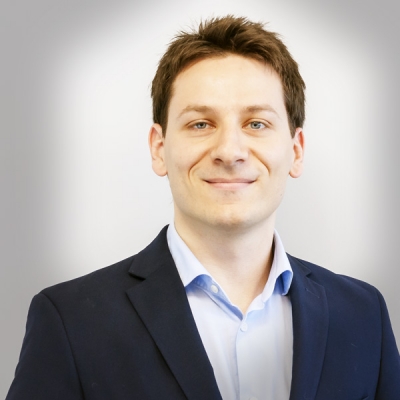 "Master's Degree cum Laude in Energetic and Nuclear Engineering at University of Rome "La Sapienza". In CAEN SyS he is working on different areas, from testing instrumentation and systems before the sale to the end-user to managing the South Italy market. He is also following different projects concerning Nuclear Waste Management and Decommissioning in Italy and abroad"
---
PEREZ-DIAZ, Prof. José L.

Prof. Dr. José Luis Pérez Díaz, coordinating person of the project COUNTERFOG, Ph. D. on Physics and Mechanical Engineer has been involved in more than 25 R&D projects of very different areas like security, vehicle transportation, railways, aeronautic, aerospace, fire safety, mechanical design, cryogenics or even software development. He is author of more than 70 papers and inventor of 15 patents. He has been coordinator of several EU projects in different fields. He has recently received the 1st prize to best R&D Cooperation project VII edition Madri+d Fundation and the 1st price to best project of partners of FP7 Clean Sky award.
---
PEZZOLA, Silvia

Born in 1982, Silvia Pezzola graduated in 2006 in Biology at the University of "Roma Tre", Rome, Italy. In 2010, she discussed her PhD thesis on the developing of anti-cancer drugs having as target a family of multidrug resistant enzymes. After PhD, she worked two years as post-doctor at CNR (Consiglio Nazionale delle Ricerche). During them, she analysed, using in vivo and in vitro models, the involvement of small RNA and microRNA in the development of Alzheimer disease. Further, she studied the development of self cleaning and self hygienic coating at department of Material Engineering, University of "Tor Vergata" Rome Italy. Thanks to this experience, she deeply analysed effects of organic and inorganic compounds towards several bacterial strains, produced in food packaging or surface exposed to severe weather. Since the beginning of her career, she has cooperated in approximately 20 papers on international journals, as well as posters and oral communications in national and international congresses.
---
PILAR PINA, Maria

Dr. Maria Pilar PINA (female) is associate professor with tenure (2007) in the Department of Chemical and Environmental Engineering at the University of Zaragoza, member of Nanoscience Institute of Aragon (http://www.unizar.es/nfp/nfp.php), coordinator of the Master in Nanostructured Materials for Nanotechnology applications (http://www.unizar.es/nanomat) and Vice-Director of IBERNAM network (http://www.ibernam.net).
Her current research pivotes on microsystems development based on nanostructured materials for reaction, separation and sensing applications. More specifically, her research lines are focused on the following topics: i) nanostructured materials and substrates for SERS detection in gas phase; ii) microfabrication using microporous films and coatings for preconcentration applications; iii) incorporation of nanostructured materials on polymer based microsystems for reaction, sensing and PEMFC applications; iv) cantilever based sensing, application to explosives and nerve agents detection, environmental monitoring, immune detection of pathogens and biomarkers. She has participated in 42 competitive research projects (6 EU funded and 1 as coordinator (ZEOCELL -FP7 project)) and 8 private projects; in 21 of them as principal researcher at national and international level. She is coauthor of 3 patents, 5 book chapters, 1 handbook chapter, 63 indexed scientific papers (JCR) and 150 communications to scientific congresses. She has supervised 8 PhD and 4 PhD thesis are under supervision (orcid.org/0000-0001-9897-6527).
---
PINCIARELLI, Dr. Luca

Luca Pinciarelli, Rome (Italy) April, 12th 1968, is working for B.M.D. S.p.A., a leading Italian Company in defence business, as Research and Development Manager for Chemical, Biological and Software Management for CBRNE products. Before joining B.M.D. was area manager for a world famous CBRN Company. From beginning of '90 he served as full time Military Officer, Italian Army Corp of Professional Engineers, for some 15 years as NBC Armament specialist. During that time was engaged in domestic and foreign NBC operations (Iraq, Unmovic, Unscom, Kosovo, Bosnia Herzegovina, Albania). He is a chemist, with physical and analytical background, 5 yrs university degree received 1992 (cum laude). Later he spent some training periods inside Italian National Research Council and got a Master in defence against C/B agents @ University of Rome "La Sapienza" in 2004.
His main CBRNE interest are:
- Field identification of chemical agents (Raman, FTIR, MS, GC/MS, FID/PID, electrochemical); -
- Field detection of C/B agents (IMS, DMS/FAIMS, fluorescence, Elisa, electrochemical);
- Advanced technology for C/B detection;
- Mobile mass spectrometric detection (GC/MS, GC/MS2);
- CBRNE SW management;
- Improved technologies for field and lab detection of explosives and energetic material.

---
PISTILLI, Giorgio
Giorgio Pistilli is a doctor and staff member of the ISSMM Master at University of Rome Tor Vergata.
---
PIZZI, Dr. Roberto

Roberto Pizzi, geologist, has been working for almost 15 years at the Department of Civil Protection, the operative branch of the Prime Minister's Cabinet in charge of the overall management of the National civil protection service. His main fields of expertise are focused on environmental emergencies, disaster waste management, environmental consequences of radiological and nuclear emergencies as well as radioactive waste management. He has got a Master degree in chemical and biological weapons and a Master degree in environmental economics and engineering. He is a lecturer for several post-graduate courses on the same issues. He has also written many articles and books related to environmental issues.

---
POHLMANN, Christopher

Dr. Christopher Pöhlmann works as Senior Application Scientist Biological Detection since 2010 for Bruker Daltonik GmbH in Leipzig. He is responsible for the development and evaluation of detection technologies for biothreat agents, e.g. electrochemical biochip technology as well as utilization of mass spectrometry for confirmatory identification of bacteria and toxins. Christopher Pöhlmann has a M.Sc. in Molecular Biotechnology from the Technical University of Munich (2006) and a PhD in Biochemistry from the University of Bayreuth (2010).
---
POLESE, Davide

Davide Polese received the mathematical engineering degree and the PhD degree in engineering of sensorial and learning system from the University of Rome Tor Vergata in 2008 and 2012 respectively. Currently, he works as researcher at the Institute of Microelectronics and Microsystems of the National Research Council in Rome. His research interest are in multivariate data analysis of chemical gas sensors, development and characterization of sensing materials and design of system for recording and stimulation of the neural tissue.
---
PROIETTI, Dr. Luca

Degree in nuclear engineering at the Faculty of Engineering of Pisa,
I worked for about 15 years in the field of environmental protection and industrial safety. I am qualified inspector Seveso and Reach for the Ministry of Environment and expert in systems safety management. I work as a teaching in the field the environment and safety for public and private companies. Substantial are also consulting for the Procure and Administrative Tribunals.
Currently I hold the job of Manager of Section ARPA Umbria.